Wow, I can't believe it's Friday again!! This week has just flown by. We had a great week and are looking forward to Eric's family joining us this weekend!
Here's 5 random things for this week! If you want to link up to the party, click on the logo below 🙂 Enjoy!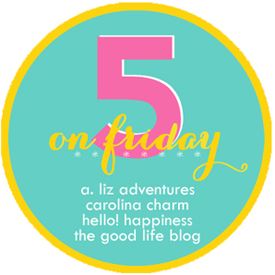 ONE-
I had my first baby shower last Sunday!! I just can't believe it's already time for showers! This one was hosted by three of my Mom's best friends from college and it was just lovely. They all made it so special for me. I have a whole post devoted to it, but here's a little snippet of the adorable diaper cake they made! Love it.
TWO-
This is a delicious Balsamic Pasta dish I made this week for dinner. It was vegetarian (how I like it), so I wasn't sure Eric would go for it. BUT, he loved it! He even said if he got it at a restaurant, he'd be very happy with it. I think that's a compliment fo sho. He did say it'd be even better with some chicken, but to each their own. I'll do a recipe post soon so you can try it too!
THREE-
"Nesting" is officially in full force. We have a million projects going on at the house right now. And I have to say, I'm pretty proud of myself…I usually have a huge honey-do list for Eric, but I've realized that he has a nice list of his own going that I really shouldn't add anything to. Our new house is pretty much in a forest, which has created a TON of manly work, which Eric has been diligent about. He's constantly working outside and making lots of progress. I'm concentrating on the things I can do in the house to make it nice and comfortable for the little one.
FOUR-
My newest item on the to-do list is painting the front door! We have grand plans to paint the exterior of our house gray with white trim, and we just recently decided that we would like a new front door. Ours is kiiiind of on the ghetto side I feel. Isn't this mustard yellow against the gray just amazing?? Loooove it.
FIVE-
Let's just say I'm in a bit of a gray phase. But isn't this color pretty perfect for a basement? I'm obsessed. Eric asked me the other night what would make me like our basement more….because I'll be honest, I kind of hate it. I've never been a basement kind of gal, and I just feel like ours is cold and unwelcoming. It's pretty darn low on my priority list. So, I've been thinking about it. I think a fresh coat of paint would warm it up and some decorations on the wall would make it more friendly. One of these days we will get to this project…
Hope you have a great weekend!