Where has March gone? We've had a month full of fun visitors (every weekend!), sickness (all 3 of us, luckily not at the same time), and house projects. Here's a little recap of what's been going on around here.
I'm joining the usual Friday linky party, so click the logo below to do the same!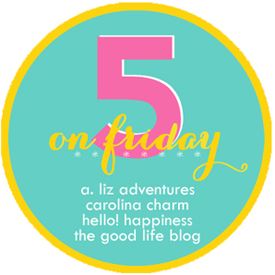 ONE– My Dad arrived a couple weeks ago with his tractor to start some serious demolition around here. We are SO appreciative for him and all the work he has done. It's been a huge lifesaver AND money saver. Eric is excited to show the before and after photos of all the work they've done. It feels like a whole new piece of land! While my Dad was here, he wanted to take Charley for her first tractor ride. She loved it while it wasn't running, but boy did it startle her when the engine started! I love these photos of the two of them so much 🙂
And this guy is pretty cute, too.
TWO– The first leg of the patio project is complete! We love it and can't wait for the weather to warm up so we can enjoy sitting out there. Next up, staining, new stairs and ripping out that ridiculous ramp (and replacing it with concrete and pretty landscaping)
THREE– My new craft room! Eric bought these countertops on Craigslist for $50 and installed them for me a few weeks ago. It is so nice having all of that open space to get my craft on.
FOUR– My friend, Leslie, gave me a refresher on how to use my sewing machine the other weekend. Since then, I've really enjoyed making some fun new things. We bought some new outdoor furniture from…where else, but a garage sale! It's in great condition, but the cushions were less than appealing to the eye. So, I bought some cute furniture and recovered all of the cushions. I'm definitely not a pro sewer, and really the only thing I know how to do is make a pillow, so I'll just pretend this is really impressive work 🙂
The pillow before and after
FIVE– What would a 5 on Friday be without some close ups of this cutie? Unfortunately she's on her second ear infection and has a nasty cough. Poor thing!! I wish I could just wave a magic wand and make her all better. She's on antibiotics and starting to look like she's feeling better. It's crazy to me how often babies get sick their first year. We sure are learning a lot as new parents!
Look at that red hair!
Hope you all have a great weekend!