Good Friday Morning! (Did you see what I did there? har har) Life has been pretty crazy lately, so I thought I'd stop for a second to reflect on some of the more fun things happening around here. Without going into detail, I'd just like to ask for your prayers of strength and peace for my Grandma who is battling cancer. Cancer sucks big ones…there's just no two ways about it.
Charlotte is FINALLY feeling better after a month and a half of being sick with 2 rounds of ear infections and 2 rounds of RSV. Who's ready for cold season to be over?! We sure are. It was so sad to see her sick and not be able to help her. We have an appointment with the ENT in a few weeks to see if she needs tubes in her ears 🙁 I'm not thrilled about the idea, but whatever is best for our little nugget is what we will do!
On to the fun stuff! I'm linking up with other Friday bloggers, so click on the logo below to check them all out!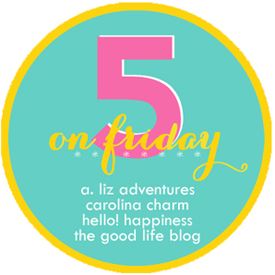 ONE– And she's on the move! Charlotte is crawling! She started last weekend while we were visiting my Grandma. She only going backwards right now, but I'm sure she'll get the hang of it soon. She always does 🙂 Time to baby-proof the house!
TWO– Charlotte met the Easter bunny! It's no secret that Easter is my favorite holiday. I love everything about it! What better way to remember Charlotte's first Easter than a classic picture with the bunny at the mall. We had lots of smiling pictures to choose from, which we were totally shocked by. I think next year will be a different story when she realizes that a creepy, fuzzy bunny is holding her…
THREE– The front porch transformation is almost complete. Eric and my Dad have done so much work the last few weeks. We are really pleased with the result. The steps need to be installed, and then on to some cool landscaping around the sidewalk. Here are some photos to show the progress.
FOUR– I can't figure out how to add a movie, so let's pretend that you can hear sweet Charlotte's voice saying "dada". It may be a blabber now, but our baby is a chatty Cathy these days! It's pretty adorable to listen to her talk away. Pretty soon it'll be real words!
FIVE– I made this gift for a friend's bridal shower the other weekend. I love to give personalized gifts! It's just permanent marker written on a platter and then baked for 30 minutes in a 350 degree oven to set it.
This is another fun project I did recently. I just bought a silver platter at Dollar Tree and painted the center with chalkboard paint. It's a nice little addition to our hutch in the living room. 
Hope you all have a great weekend!