Happy Valentine's Day! Love is in the air around here. Not only is it the day of love, but it's Barkley's 4th birthday too! It's hard to believe he's been with us that long. Poor Barkley, his sweet face didn't even make it on to this post. Maybe next time, buddy.
I didn't have time to decorate for Valentine's Day this year, but I'm still feeling in the spirit. Eric and I aren't big on Valentine's Day celebrations….every day is a day for love, right?! We're going to order some steaks from the butcher, rent a movie and have a nice date night in. Sounds like a pretty solid evening.
I'm linking up on this fine Friday- click the logo below to check out all the other Friday bloggers!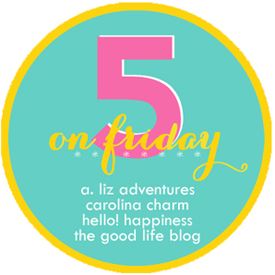 ONE– Of course I did a Valentine's Day photo shoot! Duh
She is an active one these days, so all of the pictures are fuzzy…
My Mom got Charlotte the CUTEST outfit, stuffed animal and card 🙂 Thanks, Grandma Haug!

Oh, the many faces of Miss Charlotte
TWO– My fortune last week. It was precisely what I needed in that very moment. God is good!
THREE– I made this Mexican Lasagna Wednesday night. ACTUALLY, I prepared it Tuesday, put it in the fridge, and baked it last night for dinner. I had to work late, so Eric was on daddy duty. To make life a little easier on him, he just had to pop this in the oven and dinner was ready when I got home. I'll have the recipe up soon. It was devine and the leftovers are equally as good.
FOUR– I mean, really. How did I get so lucky to have these two sweet faces in my life? Some of the best moments are spent right here on the living room floor, any night of the week. Eric makes Charlotte laugh and smile more than anyone on this planet. Their connection makes my heart so happy.
FIVE– I made this wooden sign for the basement the other day. It makes for a great edition to the giant, blank walls down there. Between this and the tree wall art, we're making headway on basement decorations!
I hope you all have a great weekend! I know we will be enjoying the warm(er) weather!