Happy Friday, friends!
We missed last week's Five on Friday link party because we were getting our relax on during our babymoon! Like we shared here,  we had an awesome trip filled with adventures and relaxation. But, Monday meant back to reality. Isn't so hard to go back to work after a long weekend?! It's like torture I tell ya! Luckily, this week has gone by fast and now it's already my favorite day of the week!
To share in the Friday fun, link up below: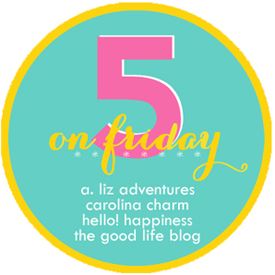 ONE-
There's something about drinking coffee on a porch that makes life so great. Weston, MO (our babymoon location) is such a quiet, quaint town. Even though we live outside the city now, we can still hear road noise. There's none of that here, and I LOVED it! Eric and I sat on the porch drinking our coffee and enjoyed some quiet time before breakfast. This is what vacations are made of. It really is the little things in life…
TWO-
Demolition #2 in the new house is underway! The first demolition was outside (here), so this is officially the first huge inside project. Eric is re-tiling our front bathroom! I can't describe how excited I am for this renovation. People, there was carpet in half of this bathroom. I just don't understand carpet in bathrooms. ESPECIALLY when the previous owners obviously took the time to tile half of it and not the other half. So weird to me. I'm so lucky to have a handy hubby like Eric 🙂 Now that the bathroom is painted and we'll soon have new flooring, it's going to be a brand new room!
THREE-
I'll be honest, this little gem isn't from this week….it's from two weeks ago. But like I said, I missed last week's Friday post! My dear friends Jena and Angela threw me an amazing baby shower a couple weekends ago! Oh boy, how did I get so lucky to have friends like these gals? More on this shower to come later!
FOUR-
As you probably know by now, I'm slightly obsessed with the nursery. What can I say, it's my favorite room in the house…by far! I'm nesting like a mo fo, so I thought I'd share this cute little nook of the room with you. I found the coat hanger at a garage sale a few years ago and thought it was perfect for Ms. C's room. Eric spray painted it white for me. On the hangers are a few very special items. The booties are vintage from an antique store Eric and I stopped into on one of our trips back home. The gown and hat are my baptismal outfit! So adorable. I can't wait to put Charley in it and compare pictures. Finally, the little brass heart and key are from my room as a child. I had an old antique dresser growing up and lets just say I was REALLY into changing my clothes 29389 times a day as a kid. It was kind of a problem. SO, my Mom had no other choice but to lock my drawers with the skeleton key to keep me out of there! I was super sneaky though, and would manage to climb on my dresser, get the key, unlock it, get what I wanted out of the drawer, climb back up to replace the key and thought no one would notice….until one day, the dresser fell straight on top of me. I learned my lesson that day.
FIVE-
So, I'm kind of in to this new fad (at least I think it's new) of making your own laundry detergent. I know that sounds super Little House on the Prairie, but I love the idea of not spending a ton of money on detergent! I'm allergic to most laundry detergents, so I like that this wouldn't bother my skin. And it's super cheap to make a year's supply! I did make my own dishwashing detergent last year and we're still using it (more on that later), so I'm pretty sold on this idea. Has anyone tried this recipe??
Enjoy your weekend!