It's Friday people!! Shout it at the rooftops! That's what I'm doing. Ya know how on some Mondays it feels like Friday will never get here? It was one of those weeks for me. So I'm pretty excited that it did indeed get here, despite my questioning mid-week. I'm ready to enjoy not one, but two baby showers this weekend (one for me, one for my friend!). I see lots of pink in my future…
You should probably click on the logo below to link up with lots of others for 5 on Friday! It's fun, do it!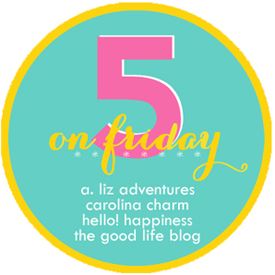 So, here we go! My week wrapped up starts NOW.
ONE- I'm going to start with the CUTEST thing first! I bought Charlotte her first pair of jeans today! No, they're not GAP, but I couldn't justify spending more than $8 on a pair of pants that will get spit up..and Lord knows what else on them. There's something about baby jeans that make me melt. I'm so in love with them and I can't wait to put them on her chubby little legs one day! Speaking of cuteness and girl clothes…anyone know where I can get some baby cowgirl boots? I want some for our maternity photo shoot!
TWO- Eric and his friend, Thayne, got to work Monday (while his wife and I enjoyed "Romantic Monday"…AKA Bachelorette night). They cut and laid all of the tiles. Hip hip hurray for getting one step closer to having a finished guest bathroom! Once again, love having myself a handy hubby!
THREE- We hung these fab drapes in the dining room last night. What do you think? This is a phone photo, so it doesn't quite do them justice. I think it really warms up the dining room and makes it more of a "room". Since the door opens from the center, the drapes never actually get in the way, which is great.
FOUR- OK, I just had to include this little snippet at least once this season. I get it, the Bachelor and Bachelorette are ridiculous. It's trashy TV with no substance. But I'm such a sucker for it! That and anything on BRAVO.  I can't let a season go without watching. But I have to say, this is by far my least favorite season. Is this just me? I'm so bored with it! I can't tell if it's because I'm older than some of the contestants or if it really is just boring. Regardless, I watch every week, religiously. It's a problem.
FIVE- I went to a friend from work's pool party this past Saturday and was totally inspired by her backyard. It was immaculate and just pure heaven. It got me thinking about all the amazing things we could do with our backyard. So, I started a pin frenzy and got lots of inspiration. I'm thinking something like this picture would be doable and pretty heavenly for our backyard space. I do realize that this is a project we won't be able to tackle until next year, but a girl can start dreaming now, right?!
Have a good weekend all!