Happy Friday folks! I have been a complete blogger slacker for the last 2 weeks. Life is going 100 miles a minute these days in preparation for the babe, AND an exciting career move for me (more on that later). But I can say, I'm happy it's Friday and we're on to another fun-filled weekend!
I'm linking up with some fellow bloggers, so click on the logo below to do the same!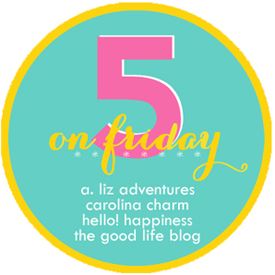 ONE– Since I didn't post last week, I had to include this gem! My Aunt Ann hosted my family baby shower at her beautiful home. It was pretty awesome. And just look at those cupcakes!! When she said she was making different kinds of cupcakes, I had no idea she meant mini CAKES! These things were colossal and friggen amazing. She should really open her own bakery. This shower made me feel more blessed than ever. I had people from every side of both of our families. Everyone was amazingly generous and made it so special for me. I was definitely feeling pretty overwhelmed with gratitude by the end of it. 
TWO– Check out our new chair! This was my birthday gift from Eric.  I think it's amazing and fits quite perfectly into our living room. It really did bring it all together. Score!
THREE– Maternity Pictures!!! First of all, it was super fun taking these pictures with Eric and our wonderful photographer, Laura McPherson at Elephant Juice Designs. This is just a sneak peek but I'm already obsessed and worried that we won't be able to decide which ones to get printed! What I really love about this photo shoot is that it captures all of my pregnancy memories. It represents such an exciting time of our lives. I just know that every time I look at these photos, it'll just mean joy…a picture really is worth a thousand words (and feelings).
FOUR– Holler for my last child-less birthday! And for DQ Ice cream cake! We enjoyed a lovely Italian dinner with my parents and my favorite cake of all time. It was definitely a successful day of birth celebration 🙂
FIVE–
Please tell me that this is a normal sight 5 weeks before your due date. I thought this nursery was looking pretty amazing there for a while. And then, I had a huge shower and I ordered some new things that we needed for baby C…and it turned into what looks like a storage room. This little gal has more gadgets and gizmos that I ever thought possible! Where on earth does it all go? No really, I need help. My goal next week is to get this place organized so I can breathe again and not freak out every time I walk in the nursery! Wish me luck…
Hope you all have a great weekend!
P.S. If you enjoy reading our latest happenings, its simple to get the most recent post delivered automatically to your email inbox. To do so, follow these instructions. We also update our Facebook on a regular basis, so "like us" and see our latest project or delicious recipe we are thinking up.
Facebook ~~~ Pinterest ~~~ Email Latest Post