It's SUMMER!!! I couldn't be more excited for warm weather and summer activities. It's by far my favorite time of year. I love that Charlotte is at the age where we can take her places and she can interact with people. The fun is really just beginning!
I'm linking up with some bloggers, so click on the link below to find out what other people are up to!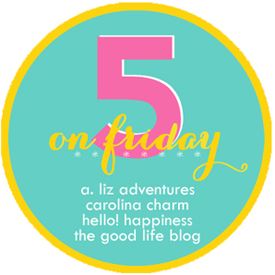 (Let me just preface this by saying that these are all phone pictures, so the quality isn't the greatest!!)
ONE- Charlotte's first trip to the zoo! We were lucky enough to go on a weekday (ie. not busy!) with our friends Lauren and Ella. Ella is a couple months younger than Charlotte, so we pushed the girls around in their matching strollers. Let's be honest, the girls had no idea where they were, but we had fun and we can check it off the "firsts" list!
TWO— The Salina River Festival was last weekend! Looking back to Last year, I was pregnant and envisioning what it would be like to bring my 9 month old to the fest the next year. And Two years ago, when we didn't even have baby on the brain! Oh how life has changed 🙂 We had the most beautiful weather this year- the best I can remember for a festival weekend. I got to catch up with some great friends from high school, went to my parent's bar, and saw family! Definitely memories I will remember forever as Charlotte's first River Festival of many to come.
Charlotte met a horse for the first time while at my parents place. She liked petting them, and I'm convinced she thought they were just big dogs.
We drove my car back home, so that meant Barkley got to sit in the backseat with Charlotte.She seriously loves that dog, and he loves her back. He rested his head on her carseat for the majority of the way there and back while she pet his head. So, so sweet.
THREE— Charlotte's first time in a swing! I took her to the park last week on our Mommy-Daughter day (random day off in the middle of the week). It was a gorgeous, sunny day…perfect for a nice swing. She loved every second of it. My Mom pushed her in the swing at the River Festival too and she couldn't have been happier!
FOUR— Our pond is full again! We got some nice rain last week, so the pond is back in action. I love to hear the bullfrogs at night, and it's cool to actually be able to see water from the house. Let's hope it sticks around this time.
FIVE— You know how I mentioned that Barkley and Charley have a special connection? Well Charley and Lilly don't exactly share the same love for one another. Now that Charlotte is on the move (crawling), she is constantly chasing Lilly around the house. Lilly tried to hide from her, but Charlotte always finds her and pulls her hair, haha. We are working on "gentle touches"….
SIX (I just can't stop)– Want to know what Charlotte's new favorite toy is?? Our piano! I pulled her up there the other day to show her how it worked, and since then, she crawls over to it every morning. She stands herself up and can barely reach the keys. She gets the biggest smile on her face when she hears herself making noise. It's seriously the cutest thing I've seen her do…I think I've said that before. It makes me so happy to think that she might have the same love for playing piano that I do!
Hope you all are having a great start to the summer!