It's FRIDAY!! Who had a busy week? I think it's just that time of year, right? Work is busy, and the holidays add another dimension to the craziness of life. I'm making a dent in the Christmas shopping, and having some fun while I'm at it. I always love a good excuse to shop!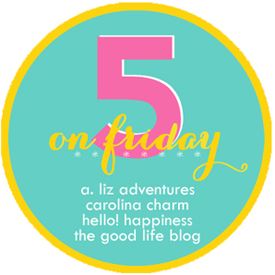 ONE– This sweet girl turned ONE last week! Charlotte is excited to help her friend celebrate her birthday on Saturday!
I had the honor of taking her first birthday photos. It makes my "job" pretty darn easy with the cutest little model around!

TWO– I'm sure my child is not alone in this. She is ob-freaking-sessed with Spagettios! Why I gave them to her for lunch WITH her clothes on, I will never know. I learned my lesson. They are strickly a dinner food (for the messy factor) and require nakedness to be eaten from now on. But I sure do love to watch her dig in!

THREE– We took WAY too many holiday photos this year (all with my camera, not professional), so it was difficult to choose on for the Christmas card. You know you're a Mom when you stop looking at how you look in the photo and focus on which one the babe looks the cutest in. I could have my eyes closed for all I know, but Charlotte sure does look cute!

FOUR– I have been obsessed with boxwood wreaths since I started seeing them in magazines a few years ago. I've never had the guts to take the plunge and buy one…I'm a super cheapskate and these puppies are NOT cheap! I finally convinced myself that that price tag is worth it…it's $45, people….and boy was I right! I love it so much! I feel like I've been missing out (or my house, rather) for so many years! Ok, that's dramatic. But I really do love it.
FIVE– Christmas-time makes my heart happy. The magic of Christmas is truly alive with a little one in the house. Last year, she wasn't exactly loving the holiday. Colic was our life this time last year. So, this year I'm feeling particularly blessed to be getting more sleep and have a happy little girl to enjoy the holiday with!