Happy Friday, everyone! It's been a while since I've done a Friday post. It feels good to be back. Now that the hustle bustle of Christmas is over, I have found a little free time to do projects like old times. So, here we go!
I'm linking up with some other bloggers- click on the logo below to see other 5 on Friday posts!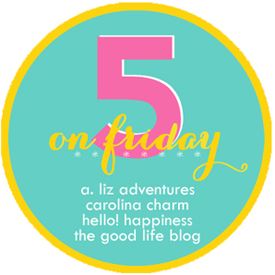 ONE– 2013 has come and gone, and I have to just say….2013 will always hold the best memories of my whole life. It's been quite a year! We rang in the new year with our friends Michelle and Thayne and their baby, Charlotte! She is 5 weeks younger than our Charlotte. We stood the girls up in front of each other and they just stared at one another. I think that's baby code for "we are besties". It was the perfect way to spend the holiday with a new baby!
TWO– Just one big, happy family. While Charley had some Tummy Time on Dad, Barkley took a rest on his neck. That's normal, right?
THREE– Eric and I painted this tree in our basement hallway. We love how it turned out. Eric had the idea- we will add frames on the branches with pictures of our family in them. We're hoping to do a little tutorial on the blog to show how it came together.
FOUR– We enjoyed a delicious lunch at Fogo De Chao on the plaza this week while Eric had the day off. If you haven't ever been, you should definitely go. It's a Brazilian Steakhouse, which means more delicious food than you can wrap your head (or stomach) around. My BFF Jena babysat Charlotte for us, which was AMAZING of her!
FIVE– Unswaddled sleeping=miracle. Miss Charlotte doesn't do a whole lot of sleeping, but when she does, she's usually swaddled. Lately, I've been trying to wean her off the swaddle when she naps. Some days it's successful, others not so much. Any tips from mamas on how to wean the babe off the swaddle?
Hope you all have a great weeekend!