It's a miracle! I'm back for Five on Friday. Fridays really are my favorite…I know I'm not alone in this. Charlotte and I get to spend the day together on Fridays, and with this beautiful weather we've been having lately it makes for lots of fun out door activities! I feel so blessed to have the day off to spend with her, and I truly cherish every second of it.
I couldn't be more excited for this weekend because it's my favorite holiday, people! Charlotte officially has 3 Easter dresses (because every girl needs at least one outfit change!) and two Easter baskets filled to the brim. We're going to attempt to dye Easter eggs and start all the fun traditions we can! Hopefully I'll get around to sharing some pictures of the festivities.
Without further ado, let's recap this week (courtesy of my trusty iphone)!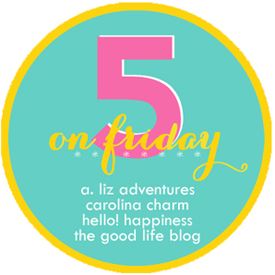 ONE– What would I do without a handy husband? I wouldn't have nearly as many cool/unique furniture items around the house! I got the idea for a new headboard when we got a new King size bed back in October. I knew I wanted to something timeless, and I'm pretty much obsessed with all things Restoration Hardware. So, I designed it and he pulled through like no other. I am SO in love with it! The pictures just really don't do it justice. Now, all we need is matching nightstands 🙂
Before Stain:
  First coat of stain, Before glaze: 
TWO– The Library!
I am thoroughly impressed with the kid's section of our public library. Charlotte has a ball every time. She's obsessed with books, so of course she likes that part, but there's also an aquarium, kitchen set, dress up area, blocks…the list goes on. We've been going every week so she's getting used to it and loves playing with the other kids who happen to be there. Yay for free entertainment!
THREE– Holy cuteness. This little girl is just so happy these days, and if you could just hear her "silly laugh". There are no words to describe it. It's like she learned that if she laughs a certain way, people around her can't help but laugh too. It's pretty amazing.
She eats at the big table with us every night now, which she loves (and so do we). We started saying a prayer before dinner a couple months ago. When Eric and I sit down at the table, she puts her hands together and looks like at us like "come on, it's prayer time!". We say the prayer, and all the while she has a huge smile on her face…like us saying something in unison is the coolest thing ever. Then, she says "AAAAMEN!" when it's over. I get that we all think our kid is the cutest thing ever, but there's just something about a tiny person "praying"!
FOUR– We have graduated to BIG GIRL JAMMIES! This is a big deal, people. Charlotte has worn footed pajamas to bed since she was born. Now that it's summer, I decided that it's time for some nice cotton jammies. I think you can tell by the picture that she feels like a princess in them.
FIVE– The old school tire swing has been upgraded to a Charlotte swing! Daddy and his handy skills made it happen. Now it's become a nightly ritual to get in a nice, long ride on the swing. She loves every second of it.  
I hope you all have a VERY happy Easter weekend!