We're baaaaack! Things have been super wild around here, so we apologize for the intermission. Nonetheless, happy Friday!!
I'm linking up with four fellow bloggers for 5 on Friday- to do the same, click on the logo below 🙂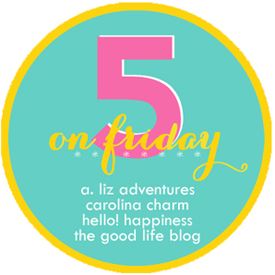 Our sweet baby is ONE MONTH old today! We seriously can't believe it. Time sure does fly. Please enjoy this entire post devoted to the one and only Charlotte! I mean really, what else would we post about, right?
ONE– We are so happy to announce our sweet daughter's arrival! Charlotte Marie was born on September 6 at 9:10.
I did my own little photo session with Charlotte the other day. Here are some of my favorites.
TWO–
Charlotte already has a personality of her own. The nurses in the hospital said "she's a fighter!" and "she sure is feisty!". That's my girl!
THREE–
Charlotte's tiny features are just amazing to us! Her little hands and feet, and those sharp fingernails. We love every tiny part of her 🙂
FOUR–
Family time is more special than ever. Eric and I have learned more about each other in the last month than in the five years we've been together. Parenthood is amazing, and can be challenging, but I feel beyond blessed to be on this adventure with him!
FIVE–
Charlotte's first bath! Let's just say she didn't like it. But we're getting there! Slowly but surely, she's liking bathtime more.
We plan to do some separate posts to tell you more about the delivery story, the first few weeks, and my trip to the hospital 2 1/2 weeks after Charlotte was born. Hope you all have a great weekend!