Can I just say how much I've missed Five for Fridays?!?! I know it's weird, but it's such a fun way to recapping the week in photos. I'll be so glad I have this to look back on as Charlotte grows up.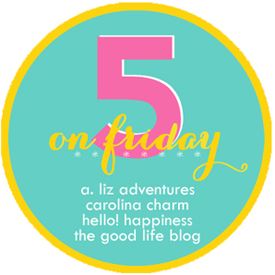 Cue grainy iphone pictures…
ONE– I say it all the time, but it boggles my mind how fast Charlotte is. She moved up to the one year old room at daycare on Monday. Is this not a huge deal to anyone else?! Being the overly emotional Mom that I've become, I got in my car and the tears came. I had so many feelings wrapped into one: scared that she was too small for all of the big one year olds, sad that she's getting so big (I know, it's an oxymoron- I didn't say my feelings made sense!), and grateful that she's ready for the transition and all of the kiddos welcomed her warmly. The teacher in her room is amazing, so I feel super lucky for that. Gosh, this Mom thing is confusing!
I can't believe she sits in a normal chair and eats! This is only the beginning of all the big girl things to come…
TWO– Things are getting festive around here. I did a little fall decorating near the curb. Our house is tucked away behind a forest of trees, so people likely think we a) are creepsters or b) hermits. Eric is convinced that someone will steal everything…and while he might be right, I'm willing to take that risk for the happiness this brings me when I pull into the driveway. HELLO fall!
THREE– I recently visited my cousin who has two boys. While there I noticed that Charlotte loved a shopping cart that they had. Being the nice people that they are, they said "it's yours!" and loaded it in the car (unbeknownst to the boys). Granted, she said this was one of 5 shopping carts they have. Anywho, this has quickly become Charley's favorite toy! She loads it up, puts her purse around her neck (because where else would a purse go?) and goes. She's a natural shopper. It's in her blood.
FOUR– These photos both show off how friggen cute this Chiefs Cheerleader is, AND to display just how much Charlotte loves Lilly. She is seriously obsessed with this cat. She doesn't say many words yet, but one thing she CAN say is "Hiiiii Lilly". Of course.
"I'm coming to get you"
FIVE– We hit up Ikea in KC last weekend! We were super excited to go. Because we had been living so close to Denver's Ikea when we lived in Nebraska, we were definitely having withdrawals from all the killer deals. We're redoing a room in the basement (get excited for that update) so we found some sweet light fixtures and other goodies. Charlotte did remarkably well while we browsed. She wanted out of the stroller, so naturally Dad put her on his shoulders only to receive the sweetest head hug ever. This girl and her hugs. I can't even handle it.
We drove down to Louisburg, KS to take the kids to the cider mill with our BFFS, the Browns. Once we arrived, we quickly realized it was Cider Fest….which meant WAY too many people. Long lines and hot weather does not equal a good time with two toddlers around naptime. So instead we ate at a "diner" in town, which was really more like a giant cafeteria with the median age being 60.
Getting these two wild children to take a photo is seriously impossible. Please note that neither of them are fully clothed. That's how we roll.
Well, that's the week wrapped up! We're excited for more fun this weekend. Happy Friday!