Happy Friday to all! Life is getting a little crazy these last few weeks leading up to our little miss getting here. We're trying to mark lots of things off of our to-do lists in preparation for her arrival. We know we won't have as much "free time" when she's here, so crunch time is on! I am taking it easy, don't worry…so that does slow me down quite a bit. Eric just put in an electric fence for Mr. Barkley and I've been hard at work on my new business venture. There's always something to do around here! However, we've been making a huge effort to relax when we can and to spend time with friends. We know things will change a lot, so these are some top priorities right now.
Link up below for 5 on Friday with some fun fellow bloggers!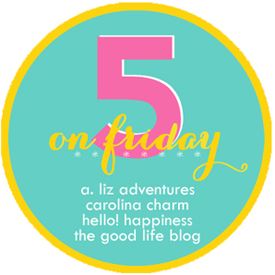 I'm going to switch things up a little this Friday! This Five for Friday is all about our weekend with the Halls! Since we've been so busy, I don't exactly have a lot of exciting things to share from our week. BUT, we did have an awesome time with our friends last weekend that I still need to share! Our friends, the Halls, came to visit from Oklahoma! Zach and Eric played soccer together in high school and Ashley also went to their high school, so they've known each other for a long time. I had the pleasure of meeting this lovely couple shortly after Eric and I started dating, and loved them! We have since moved away, moved back and they had their adorable daughter, Ella! Life happened for us both, but now we're living closer and can make weekend visits a regular thing. Yay! We had a blast with them, so here's a little recap for you all…

ONE– Just look at this adorableness!

We spent Saturday catching up over breakfast and coffee, eating lunch at the famous Topeka Bobo's Drive-In, grilling, and having 'smores over the firepit. That's my idea of a good day!

TWO– Fires are fun! 'Smores make them even better! Too bad Ashley and I were the only ones who enjoyed the deliciousness. What's up with that, boys?

THREE– Eric made a new friend! He and Ella have a special connection. Every time he held her, she was in a trance. She even fell asleep on his lap. It was the most precious thing to watch! He's going to be such a great Dad 🙂

FOUR– Nothin' like two men in the kitchen. Isn't amazing how grilling makes men excited about cooking?

FIVE– Of course, the guys had to get out on the little pond of ours to see if they could catch anything. No such luck, but they can't say they didn't try! We're getting more and more wildlife out there, which has been fun to watch. The most recent inhabitant is turtles!

Sunday, we went to church and had brunch. We were sad to see them go, but so happy to have had such a great weekend together. It's such a blessing to have friends like the Halls'! We're excited to be living so much closer and can make these weekends a regular occurrence 🙂
P.S. If you enjoy reading our latest happenings, its simple to get the most recent post delivered automatically to your email inbox. To do so, follow these instructions. We also update our Facebook on a regular basis, so "like us" and see our latest project or delicious recipe we are thinking up.
Facebook ~~~ Pinterest ~~~ Email Latest Post